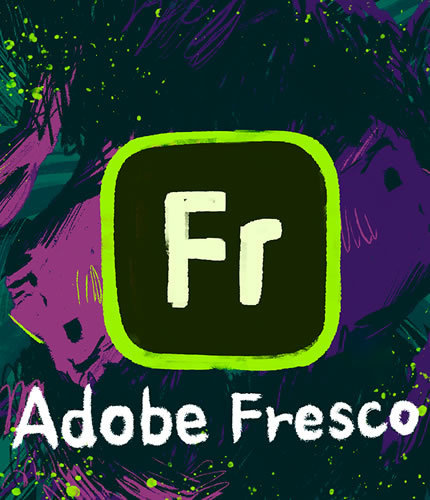 Platform : Windows 10 x64 | 607MB
Interface language : English / Dutch / Danish / Spanish / Italian / Chinese (simplified) / Chinese (traditional) / Korean / German / Norwegian / Polish / Portuguese / Portuguese (Brazil) / Russian / Turkish / Finnish / French / Czech / Swedish / Japanese
The application Adobe Fresco designed for the newest models of sensors with current stylus. It combines the world's largest set of vector and raster brushes, as well as new brushes that look like real ones. Now you can draw on an electronic device in the same way as on canvas. Adobe Fresco is ideal for artists, illustrators, animators, sketch artists, and anyone who wants to discover the world of creativity and try their hand at drawing.
System requirements:
64-bit version of Microsoft Windows 10 (version 1809 or later) ; 64-bit version of Microsoft Windows 10
Surface Pro 4 - 7, Surface Pro 5 - 7, Surface Book 1 or 2, Surface Studio 1 or 2, Surface Go, Wacom Mobile Studio Pro 13 "or 16" ; + PC
4 GB RAM
5 GB of free hard disk space for installation
Intel or NVIDIA GPU Direct Direct GPU supporting Feature Level 12.1
Surface Pen or Wacom Pro Pen (optional)
Internet access
Use watercolors and oil paints that can be mixed or diluted with one touch of the screen. Write with vector and raster brushes simultaneously on the same canvas. Thousands of Photoshop brushes are available to you, including from the famous award-winning illustrator Kyle T. Webster. In Adobe Fresco, you can easily select the right brushes from the largest collection in the world and apply them to your work.
Benefits of Adobe Fresco
- Clear Layer
The Clear Layer function allows you to quickly clear a layer of its contents. This function is contained in the Layer Actions menu.
- Repainting using the Fill tool
When the Save transparency button for the Fill tool is pressed, click to repaint any pixel brushstroke while maintaining opacity.
- Added erasers
Press and hold the eraser or double-tap to access a set of pixel or vector erasers. Pixel erasers and options are displayed if a pixel layer is selected. Vector erasers and options are displayed if a vector layer is selected.
- Extra precision
Use the new shift function to convert. If you are converting a layer or selection, you can click outside the bounding box to move one pixel in any direction, or hold the icon to move ten pixels at a time.
- Share the link
For cloud-based documents, click the additional options icon in the thumbnail of any document to share a link to its latest version. Your cloud documents are saved with maximum accuracy. Convenience and quality when working with cloud documents.
- Import PSB files
You can import large Photoshop files in .PSB format into Fresco.
DOWNLOADuploadgigrapidgatornitroflare